Trinidad and Tobago Olympic Committee's (TTOC's) #10gold24 athlete welfare and preparation fund yesterday (Wednesday May 16th) benefitted from an injection of $10,000.00 courtesy the Kenson Group of Companies. 
President of TTOC, Brian Lewis, was on hand to receive the cheque from Kenneth Ferguson, former Mayor of San Fernando and founder of the KENSON Group of Companies.  Lewis thanked the former mayor for his very kind gesture and noted that with the challenges being faced across the economy, it was heartening that corporate citizens were still willing to assist.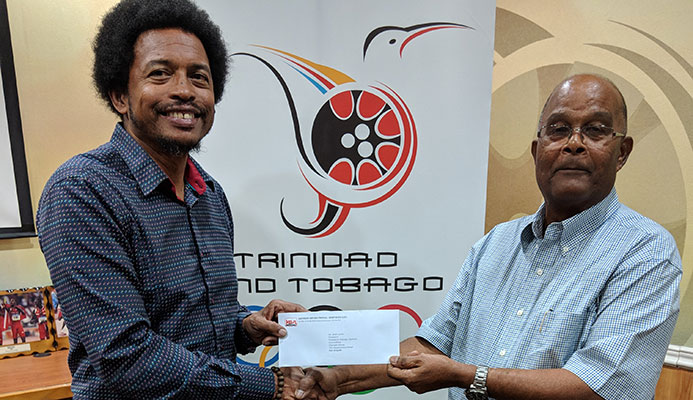 Ferguson was one of a few dedicated supporters who flew all the way to Gold Coast, Australia, to support the national team that participated in the 2018 Commonwealth Games.  On the return trip, when he realized that Jereem Richards was on the same 13-hour flight from Brisbane to Los Angeles and was travelling economy class with other team members, he immediately upgraded the young, gold medalist to first class, in recognition of his outstanding accomplishment in the final of the men's 200m event.
When asked for a comment, Ferguson responded that he was happy to extend this simple gesture to Jereem as it was the least he could do given the sense of national unity and pride the young athlete had given to Trinidad and Tobago. Ferguson further reflected on having been present for the victory and for the medal presentation when our country's anthem was played on pan. 
The Kenson Group will be a silver sponsor of NAAATT's 2018 National Open Championships to be held at the Hasely Crawford Stadium from June 22 to 24.
For further info contact:      
Mr. George Comissiong
1st Vice-President &
Chairman – Finance, Marketing & Promotions Committee
Tel: 681-5332